Curtain Coater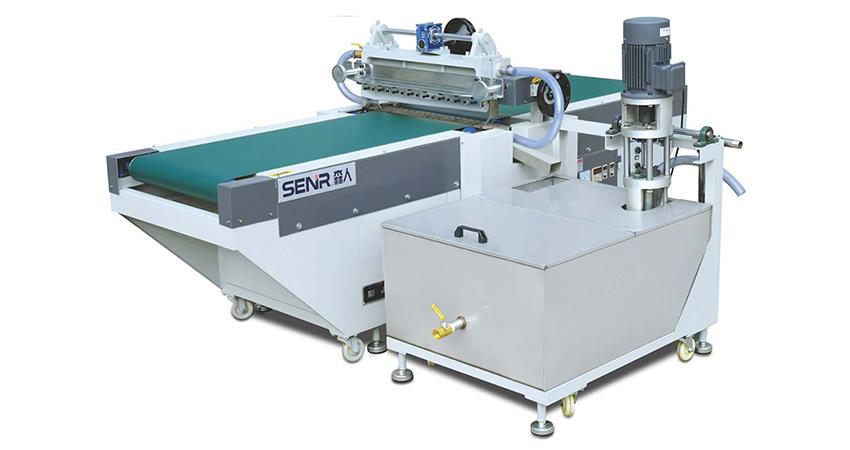 Recommended application
Curtain coaters are used for primer or topcoat curtain coating of various flat panel types, such as furniture, cabinet panels, ceramic wall and floor tiles, solid wood composite floors, flat wooden doors and bamboo wood curtains, and give each product a glossy, mirror-like coating effect.
Compared to a roller coater, the curtain coater achieves a thicker film coating in just one round. This makes it applicable for a variety of varnish types, including UV varnish, nitro varnish, amino varnish, acrylic varnish and polyurethane varnish. Because varnishes traditionally require a relatively thicker coating film and better decorative effects without any sediment or flooding occurring during the coating process, a curtain coating device is easy to clean. Suitable substrates include wood, marble, glass, metal, plastic, polymer composites, inorganic materials and more.
Application site
Working principle
The coatings are pumped by a transfer pump into the inner cavity of the gravity head, then flow down in a uniform manner from top of the curtain in order to form an even, thin coating layer. The flat panels are then transferred by the conveyor belt and pass through the thin curtain at a constant speed. By doing so, their surfaces are covered in a uniform coating layer.
The thickness of the coating curtain can be precisely controlled by adjusting the coating transport pump's flow rate, conveying speed and gap between curtain and conveyor, with the thinnest layer reaching only 0.06mm.
Main parameters
| | |
| --- | --- |
| Effective processing thickness | 2-80mm |
| Effective processing width | 620/920/1320mm(optional) |
| Minimum processing length | 300mm |
| Transport speed | 0-60m/min |
| Power supply | 380V/50Hz |
| Colorant type | UV/Water-based/PU/NC |
Features of curtain coater
The panels coated by this machine have a thick coating film, with surfaces that feature a great, glossy, mirror like effect.
The transport component's control mechanism includes a motor, reducer, and inverter, all of which feature a high precision, excellent stability, and more flexible adjustment.
The key equipment sections, depending on application requirements, are products made through casting in independently designed molds. For example, the curtain coating head and curtain coating pump are both aluminum castings and feature stable dimensions, and are both durable and strong.
The conveyor belt is made of high-quality resin material, which is resistant to solvent corrosion and easy to clean.
The coatings can be recovered and recycled in order to reduce waste, reduce raw material costs, and lower environmental pollution rates.
UV environmentally friendly coatings are used, which will quickly solidify, and are both efficient and green.
Optional models
| | | | | | | |
| --- | --- | --- | --- | --- | --- | --- |
| Model | Effective processing width (mm) | Transport power (kw) | Power of oil pump (kw) | Heating power (kw) | Outline size (LWH) | |
| SR-L1620 | 620 | 0.75 | 0.75 | 3 | 3000x1680x1200 | |
| SR-L1920 | 920 | 0.75 | 1.5 | 6 | 3000x1980x1200 | |
| SR-L11320 | 1320 | 1.5 | 2.2 | 6 | 5000x2280x1200 | |