Roller Coater
Brief introduction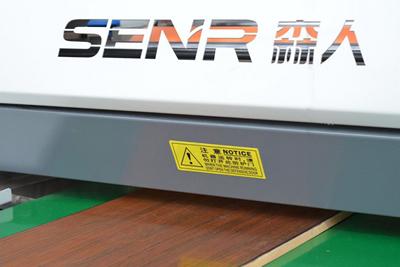 What are roller coaters?
Roller coaters are prominent coating equipment used on flat workpieces. With the help of a roller that has absorbed a coating material, the coating is rolled onto the workpiece surface in a uniform manner, resulting in less coating loss. Compared to a curtain coater, their coating effect is almost the same. Roll coaters feature a high degree of productivity, and can be paired with other equipment, including a coating feeder, coating dryer and many other auxiliary equipment pieces in order to create a coating line with a high degree of automation.
What paints are suitable for roll coaters?
Roller coaters require coatings with an excellent levelling property, specific moisture and adhesion properties, and preferably a certain degree of flexibility and wear resistance. Solvent coatings and plastic sol coatings are the most common coating materials, including NC or UV paint.
In addition, roller coaters are also suitable for PU and PE paints. However, these two materials have higher requirements for the rubber roller and are more difficult to clean, making them less convenient for operation.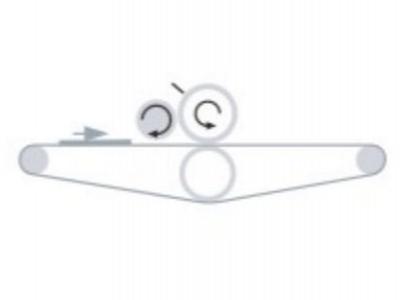 How do roller coaters finish coating?
During the operation process, a coating rubber covered roller and a steel applicator roll are tightly connected in a parallel manner, and simultaneously rotate in a reverse manner at a constant speed/ The two of them form a V shaped space, which is where the paint stays evenly into. The workpiece that needs to be coated is moved forward at a constant speed, using a conveyor, and passes through the paint covered rubber roll, ensuring a flat, smooth coating effect.
The operator can control the thickness and the uniformity of the paint on the coating rubber covered roller, by simply adjusting the tightness between the coating rubber covered roll and the steel applicator roll.
---
Optional models
---
Characteristics of roller coaters
The coating film applications are flat and smooth, ensuring a great fullness with no color differences.
The three parts (coating roll, doctor roll and conveyor) are individually controlled using three independent control systems, which are composed of a motor, reducer and frequency converter. This ensures a high precision, excellent stability and flexible adjustment.
The critical equipment components are formed through casting with the use of self-designed molds, depending on application requirements. For example, a split type casting is used as the roller bearing block in order to make roller replacement fast and easy.
Man-machine interface, precision auto-elevator and other automaton configurations are optional.
The roller coater's paint coating application is capable of automated production, in order to enhance the productivity and save labor costs.
The coatings can be recovered and recycled, which not only avoids waste and lowers raw material costs, but also reduces environmental pollution.
The UV environment-friendly coatings can be quickly solidified and are efficient, green and environmentally friendly.
---
Structure
1. Frame
The frame bears all components of the roller coater, just like an automobile chassis does. It is the foundation for the entire machine.
2. Workbench
The workbench is the feeding system, and the stable operation is a must for flat, smooth coating applications.
3. Lifting system
Because the lifting system with rigid support is the only adjustment system of a roller coater for controlling a workpiece thickness, it must be both light and accurate.
4. Coating head
The coating head is the coating system on which the coating rubber covered roll and steel applicator roll are installed.
5. Paint feeding system
The paint feeding system includes the paint pump, paint tube, ball valve, and union joint. These parts are responsible for pumping paint to the coating head.
6. Paint backing system
The paint backing system consists of short backing slot, long backing slot and backing hopper, which is responsible for the recovery and recycling of paint.
7. Control system
The control system includes the control box, electrical cabinet, frequency converter, potentiometer, buttons, and indicator light in order to control the entire roller coater's operation.