Dual Roller Coater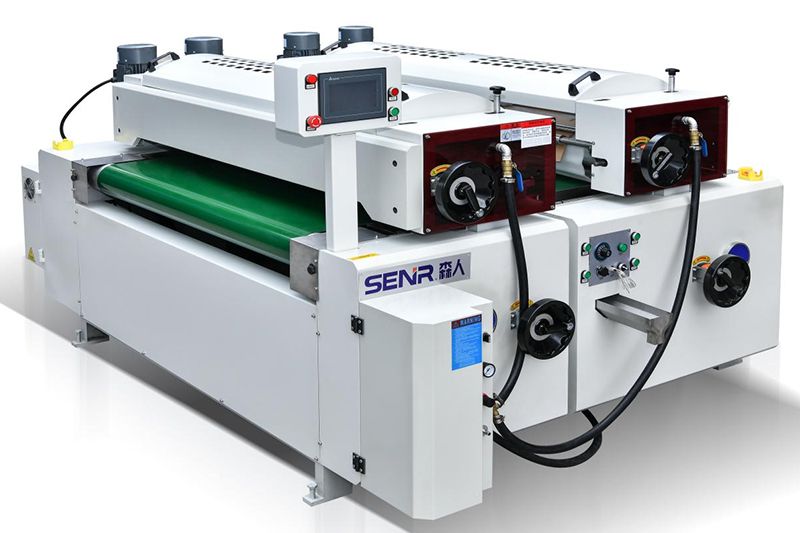 Recommended application
The dual roller coater completes the application of coating through the use of two sets of coating heads. It is particular suitable for application of large area panels and strips, such as floors, cabinet boards and furniture panels. It has a higher efficiency than a single roller coater, and applicable materials include wood, glass and metal panels, plastic film, melamine board, and plywood.
Application site
Working principle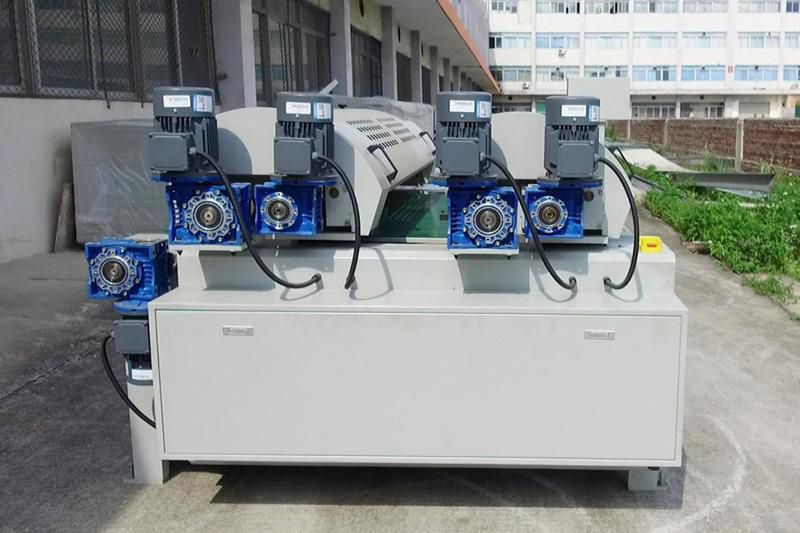 The doctor roll ensures the coating is distributed uniformly along the coating roll, and then ensures the coating roll evenly applies the coating to the product surface.
Main parameters
| | |
| --- | --- |
| Effective processing thickness | 2-80mm |
| Effective processing width | 620/920/1320mm(optional) |
| Minimum processing length | 300mm |
| Transport speed | 0-20m/min |
| Heating power | 3kW |
| Power supply | 380V/50Hz |
| Paint type | UV/ Water-based /PU/NC/PE |
Details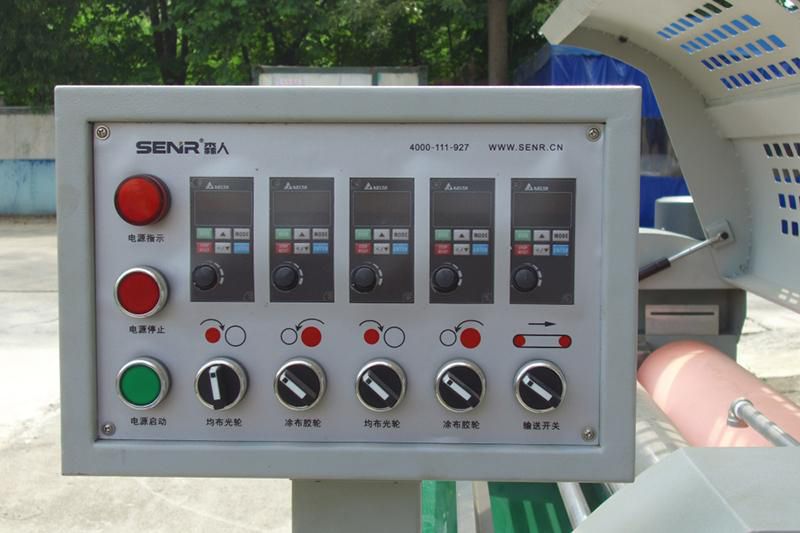 The coating rolls on both sets can rotate in both the same or opposite directions. When operating in the same direction, the lower the roll's rotation speed, the thicker the coating film is. However, the roll coating efficiency is not as high as it could be. When rotating in the opposite direction, adjustment is a bit more complex, but the coating roll coatings are fully transferred to the workpiece for a thicker coating.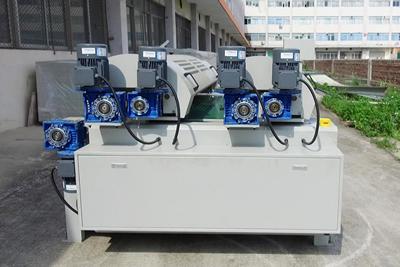 The conveyor belt, coating roll and pressure roll are all controlled by an independent DC converter motor, which is capable of precise, stepless adjustment. The dual roller coater is suitable for the roll coating of UV paints.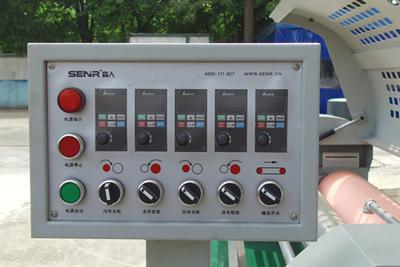 Simple, intuitive operating interface
Optional models
The coating rolls on both sets of the coating heads can be chosen from a free combination of PU rubber rolls or laser rolls. The laser roll is precisely processed using laser engraving technology, which further enhances the coated surface's flatness.
SR-R2P series dual roller coater (coating rolls: two rubber rolls)
| | | | | | | |
| --- | --- | --- | --- | --- | --- | --- |
| Model | Effective processing width (mm) | Conveying power (kw) | Power of coating roll (kw) | Power of doctor roll (kw) | Outline size (L*W*H) | |
| 620 | 620 | 0.75 | 0.75 | 0.55 | 1800*1850*1700 | |
| 920 | 920 | 0.75 | 0.75 | 0.75 | 1800*2150*1700 | |
| 1320 | 1320 | 1.5 | 1.5 | 0.75 | 1800*2450*1700 | |
SR-R2PL series dual roller coater (coating rolls: rubber roll + laser roll)
| | | | | | | |
| --- | --- | --- | --- | --- | --- | --- |
| Model | Effective processing width (mm) | Conveying power (kw) | Power of coating roll (kw) | Power of pressure roll (kw) | Outline size (L*W*H) | |
| 620 | 620 | 0.75 | 0.75 | 0.55 | 1800*1850*1700 | |
| 920 | 920 | 0.75 | 0.75 | 0.75 | 1800*2150*1700 | |
| 1320 | 1320 | 1.5 | 1.5 | 0.75 | 1800*2450*1700 | |
SR-R2LL series dual roller coater (coating rolls: two laser rolls)
| | | | | | | |
| --- | --- | --- | --- | --- | --- | --- |
| Model | Effective processing width (mm) | Conveying power (kw) | Power of coating roll (kw) | Power of pressure roll (kw) | Outline size (L*W*H) | |
| 620 | 620 | 0.75 | 0.75 | 0.55 | 1800*1850*1700 | |
| 920 | 920 | 0.75 | 0.75 | 0.75 | 1800*2150*1700 | |
| 1320 | 1320 | 1.5 | 1.5 | 0.75 | 1800*2450*1700 | |